Simplicity
MyInvoice is the simplest in use invoicing application. With just few taps you can create invoice and send it to your customer as PDF. It uses quite classical approach to create documents, so everyone should feel familiar. Simplicity doesn't mean lack of features. MyInvoice is very powerful! You can create invoice documents, receipts, pro forma documents, expense documents, quotes and track payments. Also, You will have simple stock management! Manage custom discount rules for customers and wares. Did we mention, that MyInvoice supports multiple companies (available as In App Purchase) and multi currency? For more simplicity we use standard UI controls available on iOS and we respect Apple User Interface guidelines. Your clients will love dual language invoices.
Payments
Tracking payments is as powerful as on desktop software. Documents (invoices and expenses) can be paid partially or be overpaid, they can also be compensated. Also, one payment can be attached to multiple documents. Every payment information is stored in MyInvoice, so You can check when and who paid you. Cash flow also creates special cash documents - you can give them to your customers to confirm cash operations.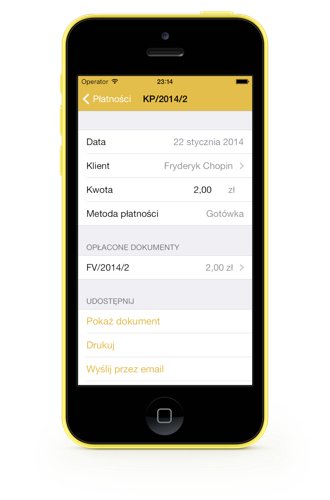 Synchronization
Easly synchronize all datas across all devices! Just switch on synchronization, logon into your Dropbox account and wait for synchronization to be done. If you have several devices in one LAN, they will notify changes faster!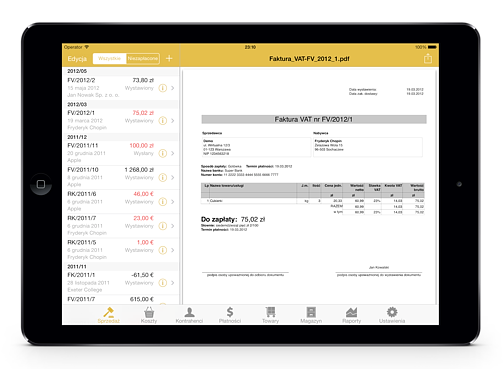 PDF export
Documents can be send to customers as PDF documents. Documents are generated completely internally in your device, so Internet connection is not required. You can also print documents directly from your device using AirPrint™ or open them in external applications supporting PDF (like iBooks, Dropbox, etc). In a future versions we will provide more templates or even allow you to create your own. We use W3C standard for that - own implementation of limited XSL:FO. Of course, You can embed Your company logo, background or any other picture.
Mobile thermal printing
Do you sell on site? Do you need to give an invoice, order or payment confirmation to your client? MyInvoice supports mobile printing on Woosim mobile thermal printers! It uses Bluetooth interface. All printers are Apple certified devices.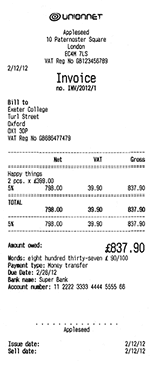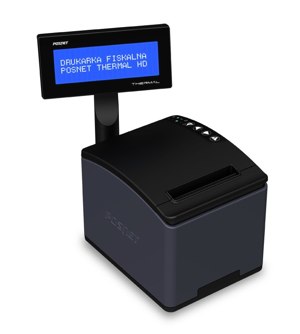 POS terminal and fiscal printers
Simlify your retail sales. MyInvoice have built in POS terminal with superb barcode reader (powered by ZBar) which will urn your iPhone, iPad or iPod into simple cash register. Hardware barcode readers are also supported, just connect Bluetooth enabled barcode reader (keyboard mode) or RS232 barcode reader (with LAN to RS232 converter).
Some countries require from you fiscal printers for retail selling. MyInvoice allows to print invoices and receipts on fiscal printers made by Posnet! We recommend Posnet Thermal HD fiscal printer with built in LAN port. Posnet fiscal printers are currently supported only in Poland.
Expenses
Probably You will not forget to remind your customers for payments. But what with deferred payments for Your suppliers? Did you forgot about them? Now you can track expenses similarly to invoices. You can also attach scanned documents to them (choose picture scan from Photo Library or make a shot with built in Camera). We recommend to use third party software Genius Scan or TurboScan+ (find them in App Store).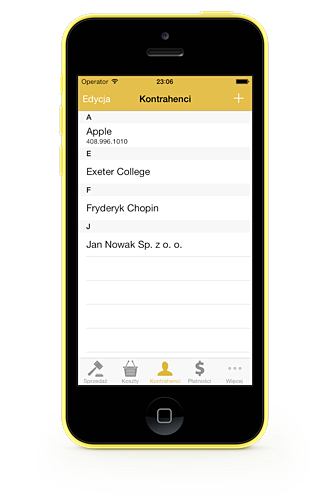 Customers database
Don't mix your private Address Book with your business Address Book. Now You can have completely separate Address Book in MyInvoice. You can make changes in customers address and see what has changed (older documents will use old address and newer documents will use new address). If you have occasional customers which You don't want to have in Your customers database, it's also possible. Create income document and create customer within that document. If you make new business with that customer, he will be found and popped up to use the previous one. So, you will not make customer duplicates anymore. Within customer you can also find all his documents and payments, and also balance.
Wares database
Manage your stock, goods and services like as in your shop. Wares database includes full description about your goods and services, including SKU codes, EAN codes or goods classification codes (used in European Union). Using wares database is not required, as you can create ware items directly in income documents. There you can also attach serial numbers to goods being sold - this information will be printed on invoices and will allow you to track guarantees. Items can have prices in multiple currencies. Simple stock management will allow to control stock incomes and outcomes.
Designed for European Union and even Whole World
MyInvoice was created in Poland, especially for Polish and European Union businesses, but can be used in some other countries in the world (US, CA & AU are partially supported from now - see multiple taxes). All EU countries has predefined taxes and validation of postal codes and VAT IDs. Currently supported languages are English, Polish and Russian (if You want to make translations, please contact us). You can also translate documents to any language You want. For non-VAT countries, like US, CA, AU we provided simplified invoice template. MyInvoice supports A4 and US Letter paper sizes. NOTICE: currently only one tax rate is possible per invoice item - combined taxes are not supported yet. If You are not sure that MyInvoice will work properly in Your country, please contact us.
Data exchange
Import data into MyInvoice just with few taps. Create your products and customers database in your favourite spreadsheet, save them as CSV file and import them with Dropbox. You can also export same data to Dropbox.
If you've got other invoicing or accounting software? You can exchange data with it! MyInvoice can import and export documents, products and customers data withing simple XML file.
MyInvoice can also exchange all the data with Polish software: Maktura and InsERT (Subiekt GT, Rachmistrz GT).
More exciting features soon!
MyInvoice is not end product. We have plenty of ideas that we will implement in our software, keep eyes on it! If above features are not enough for You, or your country has special documents (like in Poland, we have Margin Invoices), please contact us - we will try to implement them for you without additional costs - it's very hard to know every nuance for each country in the world.
My Invoice